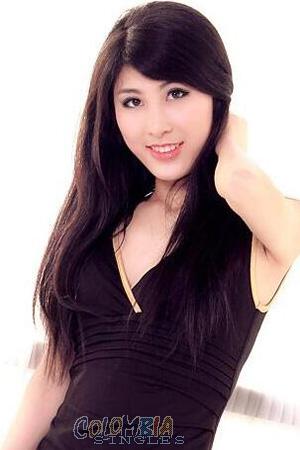 ID: 173547
Yujiao
China
City:
Chongqing
Age:
25
Birth Date:
3/10/1992
Zodiac:
Pisces
,
Monkey
Weight:
110lb, 50kg
Height:
5'6", 168cm
Eye Color:
Black
Hair Color:
Black
Marital Status:
Single
Children:
None
Religion:
None/Agnostic
Smoker:
No
Drinker:
No
Education:
College
Company:
Private
Job Title:
Owner
Sports:
Badminton, hiking, jogging
Hobbies:
Music, movies, traveling
Languages:
Chinese (native)
Self Description: I am positive, gentle, easy-going, good sense of humor, trustworthy, and lovely. I can be sarcastic at times, but in a fun way. So my friends always like hang out with me. Even lots of male friends too, they said I can bring some one in deep blue back to life. Maybe sometimes my funny story is not so fun but people still laugh. I guess the way I speak and all of my body language together makes them happy. In a word, I like to be happy and keep people happy. I really appreciate the little things in life and get moved by very little details. I'm pretty easy to please so if you make me cry one day donít be panic your big hug or anything can make me back to your little princess again. I enjoy good conversation, if you can not make me laugh in a conversation it is still ok, I will be comfortable to be a good listener, and sometimes we need to think in a deeper way not just laugh. Life is an amazing journey, full of highs and lows. I always prepare myself to explore a br! and new thing in life.
Comments: I donít have a special type on my mind here, as long as he is nice and truly love me. I donít think money can buy love. Yup, I care about education, looking, money, background and lots of stuffs too, just as all the women in this world caring about, because this is a husband I am looking for, but I would like to tell in advance, I am not perfect, so I donít care much about that kind of things.