Information about hotel
The Agency Hotel on the shores of the Caribbean Sea is five minutes away from historical downtown, and less than ten minutes away from the international airport. In easy walking distance you'll find colorful old world market place, restaurants and night life, the most fancy boutiques, travel agencies, jewelers, casinos, galleries and amusement center. Its renew infrastructure and his privilege location will make of your vacation an unforgettable experience.

The Agency Hotel offers 106 completely remodeled rooms with TV Cable, Mini bar, Phone, Fax , Internet service, Air conditioning and a great sea view. The hotel also offers direct beach access and a private swimming pool for your enjoyment.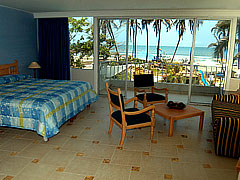 Cartagena, just a short 2 hour flight from Miami, is a remarkably romantic city. Enjoy a r a leisurely walk on the moonlit beach, or a late dinner in one of the many superb restaurants found in the Old Walled City.

Cartagena has a year-round hot, tropical climate (90 % humidity), with average daytime temperatures of 30 degrees. The best time to visit is the dry months between December and March but coincide with the busy domestic holiday season. May through November is the rainy season, though the rain falls only in the afternoon and evening, refreshes and creates the setting for clear cool evenings; you never need more than a light jacket.

For more information please call our office at 602-553-8178 (ext. 209).

Cartagena Romance Tour Details
Romance Tours
Latin Women Tours
Peru, Latin Women Tours
Costa Rica, Latin Women Tours
Colombian Singles

7320 N Dreamy Draw Drive
Phoenix, Arizona 85020
(602) 553-8178
FAX (602) 468-1119

Contact Us



THIS PROGRAM IS THE SOLE PROPERTY OF COLOMBIAN SINGLES AND MAY NOT BE COPIED IN ANY WAY OR FORM WITHOUT EXPRESS PERMISSION FROM COLOMBIAN SINGLES.

© COPYRIGHT 1996-2023 - ALL RIGHTS RESERVED.